Fresque du Castelviel
Completed in 2019, this outdoor lighting project in Albi, France uses five BLADE LRi linear luminaires to draw attention to a large painting on the side of a building in the town's Castelviel quarter.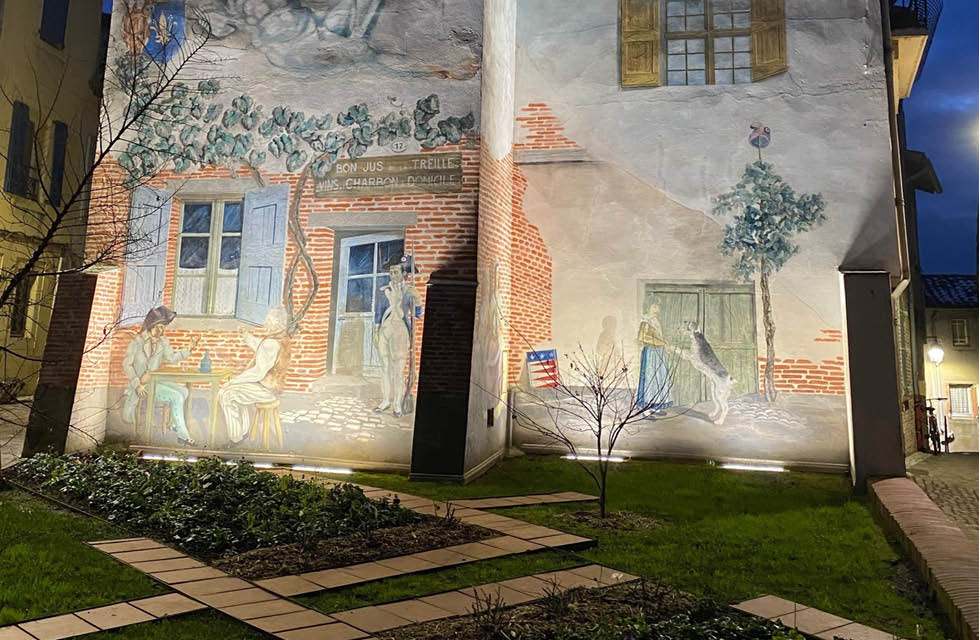 The episcopal town situated north east of Toulouse has a rich history and is home to the Cathedral Basilica of Sainte-Cécile (also known as Albi Cathedral) which was completed in 1480. This huge gothic structure looks like a fortress on the outside, but is majestic on the interior and is considered one of the largest brick buildings in the world. It was designated a UNESCO world heritage site in 2010.
Visitors are also drawn to Albi for its 'Pont Vieux' or 'Old Bridge' which dates back to 1035 built over the river Tarn and its intricate old town streets – one of which now benefits from this new lighting scheme.
The wall painting adorning the side of a house in an old part of the town tells the story of the eponymous neighbourhood and its inhabitants. While it's an interesting painting to look at, there's actually a mistake in it. The artists confused the French cockade with the English cockade (ribbons or a knot worn on a hat as a badge of office or livery) on the solider standing guard in the painting.
The end customer – the City of Albi – wanted to install lighting that would redefine the area at night. As well as ensuring the artwork was visible even after sundown, it was hoped that new ambient lighting would also provide a nice atmosphere to the surrounding square, allowing it to be enjoyed by both residents and visitors.
The customer found beauty in the design of the BLADE LRi and it was chosen for its uniformity and ability to graze light gently up the wall. The mixing chamber reinforced this decision as it means a smooth lighting effect is achieved from top to bottom.
Zumtobel Group's Yann Varvatsoulis saw this project through to completion and commented, "I really enjoyed working on this project and ensuring we met the client's objectives which was to achieve the best result possible: lighting that was efficient and remarkable. I had no doubt that we were going to make that happen by using acdc products. After installing BLADE, the client contacted me and said they were very satisfied – even more that they expected to be. Mission accomplished! A big thank you to everyone involved with this project, including my colleague Antoine Jean (acdc Business Development Manager – France) and the lighting design office in Paris who provided support throughout."